About Jim Corbett National Park
Get here details about Jim Corbett National Tour Packages, Hotels, Resorts, Customized Tour Packages, Jeep Safari, Elephant Safari, Rope Slithering, Bird watching, and River Rafting, etc. It's a Larger Tigers Tiger Reserve Project in Ramnagar in Uttarakhand.
Jim Corbett National Park is the popular wildlife park of India. Jim Corbett National Park comes under the project tiger reserve in India. Due to this, the park has gained popularity as Jim Corbett Tiger Reserve. It has a plethora of species of plants that people come to see and experience from all over the world.
Corbett national park became the wildlife tour point for wildlife lovers because of the increasing number of Tigers day by day. Corbett wildlife tour packages are filled with adventurous activities to give you the flavor of the jungle.
We are having variety of Corbett tour packages include Corbett with Dudhwa tour packages, Corbett with Sariska tour packages, and many more. With the best deals of Corbett hotels packages.
Corbett national park also provides the Best Hotels and Resorts in Corbett also for making the wildlife tour more special and more comfortable.
Introduction- Jim Corbett National Park
Corbett National Park is an early forest because Rudyard Kipling has kept it. Despite extensive tourism, Park maintains its environment. Humans must be scared of their strong sense of insignificance. More photos.
In 1936, India's first National Park was probably established in the best form, for the first time the Corbett National Park was limited in consultation with the great hunter and patron Jim Corbett. And this park is spread over 920.9 square kilometers at the height of 600 to 1100 meters in the foothills of the western Himalayas, in the districts of Nainital and Pauri Garhwal in Uttaranchal (the eastern parts of Uttar Pradesh). In its 64 years of informal life, its size has increased a lot and now it includes the Sonanadi Wildlife Sanctuary as part of the 1319 km reserve forest area.
Every day many tourists enjoy wildlife tourism activities like watching wild animals, birds, and their photography. This Park is divided into 5 parts so that tourism activities can be managed here. These tourism zones are famous for their beautiful flora and fauna, charms, and wildlife. These zones are Dhikala Zone, Canter Safari Zone, Bijrani Zone, and Jhirna Safari Zone. These Forest officials organized safari tours in all tourism zones in two shifts.
Dhikala zone: The Dhikala zone is the largest and beautiful zones in Corbett, Dhikala is famous for its large range of flora and fauna. This zone has excellent wildlife and natural beauty it is the ultimate place tonight to stay highly recommended the wildlife lovers. You can watch here wild animals like tigers, elephants, many species of deer, wild pigs and many more.
Bijrani zone: After Dhikala Bijrani is the most famous zone in the Corbett national park. It is a highly visited zone by the day safari tourists. Magnified with its eye-catching natural beauty, this zone is famous for its relaxed and peaceful atmosphere inside the forest. Here you can watch a huge range of wildlife animals and birds. You can enjoy here the big grassland, various water narrow rivers, sal forest, and thick sal forest. It's also 1 km far away from Ramnagar.
Jhirna Safari Zone: Its situated southern corner of Corbett Forest, This zone is one of the most visited zones by day tourists because its open for day tourists throughout the year. The famous attraction of this zone are wild beers, tigers, wild elephants, many species of deer and sambar, etc. along with this you can enjoy birds watching
Dhela zone: This zone opened in Dec 2014, and open a whole year like Jhirna Zone. This zone includes a large grassland, small water rivers various types of trees like sal, Sagun, Kusum, Samber, Haldu, Bahera, and Rohini. This zone is enriched with the flora and fauna. The main wildlife animals in this zone are the Royal Bengal tiger, many species of Deer, wild elephants, Nilgai, leopards, etc.
Durga Devi Zone: This Zone is situated in the northeast part of the Jim Corbett National Park and has a wide range of flora fauna species. This zone is known as a paradise for nature lovers because it's delightful with the natural environment's beauty. The many small bodies of Ramganga rivers and Mandal rivers flow in this region and increase the beauty of this zone.
Sitabani Forest zone: This zone is located at the Jim Corbett National Park outside area. This zone has many small rivers and dense forests and old temples. Here is an old Sitabani temple which is maintained by the Archaeological Survey of India (ASI). You will watch here a large number of those animals who feed plants like many species of deer, Nilgai, sambars, Nilgai elephants, and many species of birds.
HOT Corbett National Park Tour Packages
Jim Corbett National Park is one of the best places to witness wildlife in its true glory.
The jurisdiction of Jim Corbett National Park was a private property of local rulers before the British rule for 1815-20 years. Though the ownership was passed in British hands, the government did not reduce attention to the maintenance of the park. The only purpose was to exploit natural resources and get the benefit from the forest as much as possible.
Major Ramsay created the first comprehensive conservation plan to protect the forest in 1858. He ensured that his orders would be followed strictly and gradually the situation of the forest improved significantly till 1896. This plan of Ramsay showed a deeper thought which he gave to the science of forestry. And in 1861-62 farming was banned in the Lowland Patlidun valley. The cattle shed was also pulled down, the domestic animals were dependent on the forest and a regular cadre of the workers was made to fight the forest fire. Licenses were issued for timber and trees. In 1868 forest department took responsibility for the forest and in 1879 forest was declared a forest reserve under the Forest Act.
In a letter dated 3 January 1907, Sir Michael keenly presented the possibility of converting these forests into a game sanctuary for the first time, although the proposal was closed. Several years later in 1934, Governor Sir Malcolm Halley supported the proposal of the game sanctuary and wanted to make a law to give it a law.
The law that was implemented to overcome the delay was made in the forest reserved by the Chief Conservator of the forest. Later the boundary of the park was fixed with the advice of Major Jim Corbett and in 1936 the United Provinces National Park Act was implemented. This reserve forest became India's first national park and then after its founder Sir, Malcolm Hailey, it was appropriately named Halley National Park
Who was Colonel Jim Corbett?
Born as the eighth child of Mary Jim Corbett and Christopher Corbett, Colonel Jim Corbett was born in 1875 in Nainital. Christopher worked as a postmaster at Nainital. He passed his matriculation from Philanders Smith College in Nainital. Here, his master appreciated him for his human values and benevolent nature. However, he could not continue with his studies any further.
He loved to spend the summers in Gurni House in Nainital and winters in the Kaladhungi in Tarai region. His bungalow in Kaladhungi was inside a dense forest that had a large population of animals with plants. In those days, at Nainital, Jim saw tigers and leopards within a two and a half kilometers radius of Goddess Naini temple. As a result of living in such exotic and beautiful surroundings, he made a beautiful natural connection with nature.
At the sensitive age of ten years, he became a hunter, he first shot his leopard and faced animals in the forest, and trained his gun on any wild animal. When he turned 80 years old, he joined the railway station at Mokama Ghat in Bihar, who worked as a fuel inspector and assistant station master. Then he became a labor contractor.
At the time when World War I broke out in the year 1914, he led a group of around five hundred Kumaon workmen to France. He had proven skills in recruiting and then organizing them to work for him willingly. He continued assisting the British rules by providing training to the soldiers in popular forest warfare. After that, he was promoted to the rank of lieutenant colonel. In the year 1920 after his health conditions deteriorated, he gave up his job and went back to Nainital and for the next 24 years, he continued serving as an elected member of the Nainital municipal Board.
When the first World War broke out in the year 1914, Corbett led a troop of 500 workers from Kumaon and took them to France, who, he trained to work for them. He assisted the British government by training soldiers in the jungle war, and then he was honored with the post of Lieutenant Colonel. After the disruption of his health in 1920, he resigned from the job and returned to Nainital. And for the next twenty-four years, he worked as an elected member of the Municipality Board in Nainital.
A turning point in Jim's life came from a hunter-gatherer in northern India; he came to the lake with thousands of waterfalls. Within a few minutes, they counted three hundred waterfalls. Jim could not understand this indictment. From that day they developed a deviation for this type of prey. And when his friends were happy, Jim promised to kill the animal without any reason. After the killing of a man-eater in the middle of the third decade, who went to Kuara in Pawalgadh he left the victim in the form of a game. After this, he only shot those tigers that changed man-eaters or cattle lifts. Jim understood his duty to kill dangerous animals in his last days.
After World War II, he settled in Kenya with her sister Maggie. At eighty years of age, after his death, a legacy was left behind. Which has now turned into Kumaon and Garhwal valleys?
After serving the wildlife conservation in all its years of life, the gym in Kumaon and Gravel later became vigilant with the wildlife conservation of the savior of peace and peace in the human devotees. And in 1956 the Indian government changed the name of the park - Corbett National Park in honor of Jim Corbett the powerful missionary for wildlife preservation in India.
Corbett is a sacrifice for tourists and wildlife lovers. There is permission to see the magnificent view for tourism in the selected areas of the Corbett Tiger Reserve and to see the different animals. In these years, the volume of visitors has increased significantly. At present, more than 70,000 tourists from every season come to the park from India and abroad.
Major Tourist attractions in Corbett National Park
The main characteristic of this perforated valley is the Ramganga River, which is widely running from west to west, in which grip currents divide the land into several small edges and valleys. Therefore its topography is very diverse. In this river, there are flocks of mahseer, crocodile, and cormorant. The curtains that make up the island of the 'Glass' tree grow with roofs and long grasslands. In this type of accommodation, there has been an increase in the wildlife of attractive beauty, including 50 mammals, 577 birds, and at least 25 reptiles.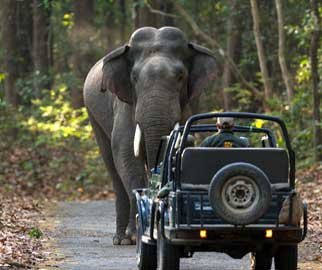 The project Tiger was inaugurated on April 1, 1973. Here, on the edge of the Ramganga reservoir border, on the edge of the rock, a substantial residential house with a single edge of a large grass plateau has been built; it is the main area of the river. And other attractions in this area is Yellow-throated Marton, Himalayan Black Beer, Drum, Porcupine, Jackal, Himalayan Palm Sieve, Sloth Bear, Indian Gray Mongoose, Common Otter, and Black-Napped Green. There are four species of deer found here. These barking deer, Para, Kakkar, and the famously known deer chital are. Goat antelopes are represented by ghosts.
There is a lot to bird watching in this park because it has more than 580 species of birds. Most water birds are in migratory diversity and come in winter. Some of these are Greeley, Bare head, Hans, Duck, Grip, Snip, Sandpiper, Gull, and Wagtail. Residents include Darter, Cormorants, Inmate, Herons, Black-neck storks, and Spoor-winged lapwing. Indian dragon, viper, cobra, Crete, and king cobra also live in Corbett Forest. And reptiles, which are residents of this area, eat rare fish; eat tall nose crocodiles and some species of turtles and turtles.
In the morning and evening, elephant rides can be booked for wildlife and can be booked in the sloping campus. The National Park provides adventure and critical experience for wildlife, wildlife, photographers, and anglers. It is worthwhile to take advantage of your vehicle here. Some areas are allowed to roam, but only with a guide.
The longest-established national park in India, Jim Corbett National Park has a figure of places to remain, either within the extent of the park itself or just outward. Here people get to travel far and wide, they are the most beautiful place to look dangerous and good jumper. Here, both tourists and picnics visit the country and abroad Angles do it. Here are the high mountains which seem very beautiful. Additionally, the popular campgrounds bring the users a more cost-effective and back-to-basics experience. Beyond that, highway 309 running north-southeast of the park has several resorts, hotels, and guest houses.
SEE AROUND CORBETT NATIONAL PARK
Garjia Temple: The distance of the Garjia Devi temple from Ramnagar city is 14 km. This temple is situated in the middle of the Kosi river, like a rock, it is known as the Kua Devi after the gods. After continuous climbing stairs, the devotees reach the main entrance of the temple. This temple is the center of attraction for the devotees, busy couples should take blessings of the Goddess of Kurukshetra.
Sitabani Forest Reserve: The distance of Seepage from Ramnagar is 10 km, which is famous as a very difficult forest area. In fact, it cannot be part of Corbett Tiger Reserve. It is also called the paradise of birds because birds with different types of feathers already make more attractive areas. Regardless of the reserve, the forest is a good number of lives, which include leopards, king cobra, barking deer, tiger, wild boar, and elephant. The historical result of this place is that Sita, the wife of Lord Rama, was expelled from the epic Ramayana under the epic Ramayana.
Corbett Water Fall: The waterfall from Ramnagar is 25 km away. There is no better place than Corbett National Forest to go for a picnic. After coming here, you can enjoy a lot of swimming and nature in the waterfall, as well as here it has come to know that there is nothing beautiful from nature. After coming to the forest, a different freshness is filled in the body's entire senses, which provides happiness and peace to the body.
How to Reach Jim Corbett National Park
By Rail: You can reach Corbett national park easily via rail and road from other cities of India. You can reach Corbett National Park from Nagar Railway Station in Just Half an hour as it is 15 km far away from Nagar Railway Station. You can get a direct train from Delhi to Ramnagar like Corbett link Express, Kathgodam, and Ranikhet Express.
By Road: Ramnagar is well connected by roads to all popular cities of India, The distance between Ramnagar and Delhi is 260 Km, State Government Uttarakhand provides you with bus service to connect Moradabad, Haldwani and Delhi.
Frequently Asked Questions
Why is Jim Corbett National Park famous?
Jim Corbett National Park is perhaps the oldest and most famous wildlife park in India. It is located in the Uttarakhand state of the country and it covers an area of 521 km2 (201 square miles). The park was established way back in 1936, primarily to assure protection to the endangered Bengal tigers. Since its establishment, Corbett played a significant role in conserving Tigers by providing them with enough prey bases such as deer and other animals.
What animals can be found here?
There are more than 550 species of birds here including 13 mammals - Tiger, Leopard, Elephant, Indian Rhinoceros, Sloth Bear, Himalayan Black Bear (Gadda), Gaur (Indian Bison), Striped Hyena and Civets.
What is the best time to go to Jim Corbett National Park?
The park opens in October and stays open till June, however, the best period for tiger spotting is December-March since most of them come out in search of water after they finish breeding. The park has several perennial streams such as Jhirna, Sonanadi, and Motichur which attract tigers throughout the year. It also has a large number of marshy lands where grasses for food grow abundantly during the monsoon. Hence, it is possible to sight tigers any time between November to March or even April though you might have to wait a little longer than usual. So you can plan your trip anytime between October -July but keep in mind there are only a limited number of accommodations available inside the park.
How much does Jim Corbett cost?
For Indians, the Jim Corbett National Park entrance fee is Rs. 200, whereas for tourists it is Rs. 1000 per person for four hours.